High quality in combination with creativity is the distinguishing feature for this Custom Bike Show. This year's show was the 35th and the organizer Twin Club Mc was celebrating their 40 year anniversary!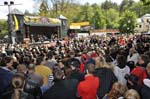 Despite the earlier days of bad weather, the clouds cracked and the sun came. With that the competitors and the audience arrived. More than 10 000 people visited Custom Bike Show this year.
The audience quickly found their favourite in Jocke Moser's creative piece of art, absolutely outstanding in shape. A construction of pipes in twisted shape with an unbelivable paintjob in all colours of the rainbow. He went from the show with both 1st prize in "Peoples Choice" and his class, "Chopper".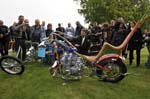 As usual the competition was held in 6 classes: HD-Chopper, Chopper, Custom, Classic Custom, Trike and Classics, besides that also a prize to Best Paint Job and People's Choice. This year the prize table was close to half a million SEK worth which more than 200 motorcycles where competing about.
For the 5th year we also is the scandinavian qualifying competition to AMD's World Championship of Custom Bike Building.
Anders Göth won the 1st prixe that mean he got a ticket to the WC-final at Sturgis, USA august 2-5 this year. Anders won the 1st prize in his class, "Custom".
Apart from all motorcycles there was a lot of attractions. At the stage performed among athers H.E.A.T and at the habour side performed Extremw Gloge Riders vertiginous rides in their globe of steel. A market street who could offer all that you could wish as a motorcycle owner. Of course there were companies from the motorcycle industries showing their products and associations who presented their activities.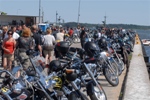 Twin Club MC Norrtelje wants to thank all our sponsors, Norrtälje municipality and other public authoritys for an as common good cooperation, all friends and familiar that lines up and works and especially everyone of you visitor that do Custom Bike Show to the happening of the year!
See you in the sunshine Saturday June 5, 2010!!
Twin Club MC Norrtelje