Custom Bike Show #45
This year's Custom Bike Show became an event of creativity and innovation. Anders Theo from Huddinge won e-Custom and Peter Forsberg from Gävle showed a compressed air-driven motorcycle. Anders Nordin came back with his winning motorcycle from 1974.
More than 7,000 visitors entered the exhibition arena in the city park in Norrtälje and 200 motorcycles were to be seen at the exhibition.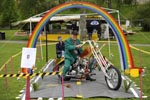 This year's World Champion finalists were selected by a well-known jury with, among others, Michael Lichter, motorcycle-photographer from the USA, Ola Stenegärd, chief designer at Indian Motorcycles and the biker-profile Marlon Larsson from Twin Club Mc. The first World Cup site went to Charlie Swordson, a talented car builder from Falun who created an HD-Chopper in narrow and sparse but elegant design. Second came Mikka Takala from Finland and the third World Cup ticket got Daniel Andersson from Borlänge.
Peter Forsberg from Gävle won the Custom class with a compressed air driven! motorbike did not come among the three who received a World Cup ticket, but received a "Wild-Card" by the World Cup organizer Neil Blaber. Peter's creation that took 3 years to create is perhaps more of a work of art than a motorcycle as the technology only allows a trip of 3 minutes - but it is a fantastic example of creativity and design!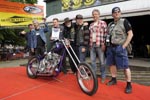 Anders Theo became the first winner in the new class for the year, e-Custom - for motorcycles powered by a electric motor. Anders has built and cleared his building for several years and got his motorcycle inspected and finished earlier this spring.
Otherwise, it was Norway's day, the prestigious class HD-Chopper was won by Knut Skogsrud from Oslo with his mc Blue Hawaii - Knut is now a experienced winner as he, a week ago won the Helsinki Bike Show. The second place was also a Norwegian, Fredrik van der Lippe from Rahms Mc in Trondheim.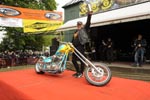 In the class for Modified Standard, Stigbjörn Wilsen from Rulpers Hog won with a tasteful Harley Davidson. Today's fourth happy Norwegian became Stein Kristoffersen who won third place in the Chopper class with a Triumph-based bike.
One of today's highlights was also Anders Nordin's newly restored HD Chopper, The Rainbow. Anders originally built his motorcycle to the Custom Bike Show in 1974, where he won! Some years later, the bike was sold, but a few years ago it found its way back to Anders - then in a miserable condition. Anders has then restored and modernized and painted it to the original appearance with old pictures as a model. There was no price for Anders this year, but much attention and credit for his cultural work.
The fact that Custom Bike Show gets more international touch is visible both in the start-and result list, 30% of all exhibitors and half of all winners are foreign visitors. To the more distant winners, the Swiss Bike-company CCCP Motorcycles, who took second place in the Custom Class with a board-track-inspired HD building and third place in Racer Class with a Sportster building.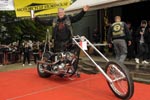 Another good builder is Ismo Keski-Korni who won the Chopper class as he did last year – but with a new motorcycle every year. This years entry was a bike based on a Kawasaki with an extraordinary front fork.
For the local successes, Micke Sandberg from Twin Club Mc stood with a completely new HD chopper. Most of the visitors found it as the best, and he won the Peoples Choice.
With this, we once again welcome you back next year and hope that you will enjoy a nice weekend along with us in Twin Club MC!
Twin Club MC Norrtelje