High class at the show but few visitors was the fact at Custom Bike Show in Norrtälje this year.
Rain, rain and rain, is perhaps how many will remember the day. The comment of the day among the visitors still were:
-We will be back next year!



2000 courageous visitors and some hundred competitors from Finland, Norway, Denmark, Germany, France, Switzerland, Italy, Russia, Estonia, Latvia and of course Sweden were represented at the Custom Bike Show in Norrtälje on Saturday.
Although the weather there was high standard of the bikes and winners were appointed in classes HD Chopper, Chopper, Custom, Classic, Custom, Classic, Trike and Modified Harley. The winning bikes were of good standard and none of the winners had to be ashamed of the reduced line-up.

Claes Wärefors from Strängnäs became the big winner of today,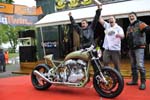 first as a 1st prize in the Custom Class and then the deserving of to win the jury's choice. This means that Claes will represent Scandinavia in the World Championships in motorcycle building in Sturgis, USA in August this year. Tickets for the European Championship finals took Samuli Kaiuola, Finland and Peo Josefsson from Motala.
The class Modified Harley and Best Paintjob was won by Mike Wiråker from Kalmar with his bagger bike - Lord of the Rings.

Despite wetness the was crowd active and many of those present took the opportunity to SMS vote for John Mathisen from Hägersten which won the audience vote with his Choppster. A happy winner, who could leave Norrtälje with a brand new engine for his next building project.

The great festival atmosphere never really arrived, persistent rain and 8 degrees meant that visitors were reduced to a fraction of what is tradition. But those who defied the weather got a show with high quality and a great stage entertainment, or as one of the visitors put it:
-A fucking weather but great entertainment.
With this, we once again welcome you next year and hope that you although everything had a nice weekend along with us in Twin club MC!
Twin Club MC Norrtelje