Festival! More than 12 000 visitors found their way to this 40 year celebration of Custom Bike Show in Societetsparken in Norrtälje! Everywhere was full of motorcycles and visitors!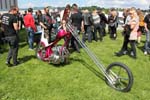 The 40-years party began on Friday evening with food and Rock'n Roll at the campsite at the club shack. The celebration continued on Saturday with Custom Bike Show.
This year's show became a big festival with lots of motorcycles, people and happenings. It was also the 10th consecutive year that the Custom Bike Show was the selection race for the World Championship of Custom Bike Building. The weather was also celebrating and showed a day of brilliant sunshine.

As part of the celebration had a gallery been built up where there were more than 300 images from all years since 1971.
Next door were about 30 of the winners from previous years in the "Hall of Fame".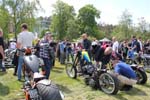 Some really old building had found their way here as the trike that Leif Persson from Slite on Gotland was built in 1969 and which then stood on the podium 6 consecutive years beginning in 1975!
Another old classic building was Anders Nordin's "Rainbow" who stood on the podium in 1974! It remains unchanged and is still a motorcycle worth admiring.
Anders also set up with a new bike and won the award as the Peoples Choice with a rebuilt Harley Davidson! Dual winner albeit 40 years apart!
Another celebrity in the Hall of Fame was Stellan Egeland's "Hulster" which won the jury's choice in 2007 and then won the World Championship of Custom Bike Building in Stugis the same year.

Of the 240 exhibitors came 70 from Europe or more far away, except from a large number from Finland were exhibitors from Norway, Latvia, Poland, Holland, Germany, France, Australia and Japan!

Kastsu from Suicide Custom in Japan sent his Harley with airfreight, not quite finished. He came to Norrtälje on Thursday and spent two intensive days to finish and then exhibit in class for HD Chopper. He received no price but has an overwhelming experience to take home. The same did apply for Kev Browne and Bruce Fenguson from southeastern Australia who had brought their bikes from home just to be with the Custom Bike Show.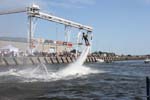 The year was characterized by innovation and details. Many of the bikes had an amazing detail finnish, Petri Ruusunen from Turku belonged to the group that put work in both wood and metal for refining an old HD to a work of art with many ingenious brass details.
Veikko Sikiö from Juupajoki won Chopper Class with a technique and detail that was absolutely outstanding! He had built everything himself, including the engine, designed and hand-built!
It also became the first choice from the jury, an as consequence the 10th winner of Custom Bike Show which was directly qualified for the World Championship of Bike Building in Cologne, Germany
With this, we once again welcome you next year and hope that you although everything had a nice weekend along with us in Twin club MC!
Twin Club MC Norrtelje