Summer town festival in Norrtälje!

Sun, blue sky, motorcycle sound and the coolest festival of the year! People and motorcycles throughout a kilometer long street in downtown Norrtälje. This is Sweden's biggest motorcycle party, with the city park, Societetsparken, full of bikes and happy people and not a free cafe chair in the whole town!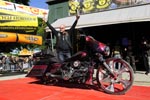 11,000 visitors, 5,000 motorcycles, 272 exhibitors, 29 winners from eight countries in the park! It is the sum of Custom Bike Show # 42! As always, then, since 1971, is the first Saturday in June, the day on which motorcycle builders from all over Europe gathered in Norrtälje to make up for the titles!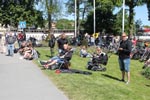 This year there were 10 titles to win as in previous years, classes Classics, Trike, Custom, Modified Harley, Chopper, Cafe Racer, HD Chopper and new for this year - Bagger (loosely translated: garbage collector). As usual Custom Bike Show is also qualifier for the European Championships - where the Twin Club Mc awards prize money to make it possible for qualifying winners will be able to get to the World Championship of motorcycle building in Cologne, Germany in October.
First to win in the new class Bagger was Anders Gunne from Norrtälje with a building based on a new Harley Davidson Dresser, long, low and with a stunning paint in red, purple and blue hues. The entire bike is full of smart necessary and fun needless solutions! Moreover, as was Anders and his new build motorcycle is also the audience favorite and won the prestige award "Peoples Choice"! Also the price for the best paint went to a bagger – from Helsinki came Klaus Riste with a bagger full of nice airbrushed portrait of classic pop and rock stars. Even last year Klaus Riste won this class.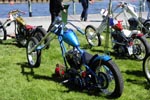 In the constant battle between Finland and Sweden it went Sweden's way, with a total of eight titles to Sweden and three titles to Finland. Aside from the Best paint award went prizes in the Modified Harley Davidson to Juho Roohu from Helsinki and HD Chopper to Rezi from Oulu in Finland.
The other multiple winner of today was Johnny Martinsson, former Norrtälje, but nowaday from Farsta who with his motorcycle Jolly Jumper won the Custom class ahead from John Mathisen, Stockholm. Johnny Martinsson was also the favorite of the jury and won one of three qualifying places for the World Championships of motorcycle building in Cologne, in October. The other qualifying places for the World Championship went to John Mathisen from Hägersten and Juho Roohu from Helsinki.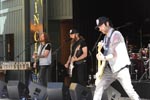 Besides that Norrtälje Custom Bike Show is the most prestigious and largest motorcycle exhibition in Sweden, it is the first major motorcycle event in the Nordic countries with two nights and a day of activities and events for motorcycle enthusiasts.
During the exhibition the day was full of activities in and around the park. Just outside entertained Norrtälje stunters with jumps and other cool tricks on a motorcycle. On stage were two gigs, Favorite Hippies with country-rock and hard rock with Corroded. The coolest activity during the day was Fredrik "Frog" Berggren and Marcus Dubois, Sweden's best FMX artists with a show of freestyle motocross. They jumped high above tree height in the Socitetspark while they did acrobatics on motorbikes in front of an exalted audience.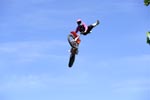 With this, we once again welcome you next year and hope that you although everything had a nice weekend along with us in Twin club MC!
Twin Club MC Norrtelje