Custom Bike Show no. 43!
Someone has said that "it's only old guys who ride chopper",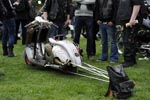 and maybe there's a little bit of truth in that expression because there were a lot of well-known bike builders who exhibited this year's exhibition and some had probably passed the 50's. Nevertheless, the HD chopper class was the class that attracted the most participants with 60 competitors. But the age was spread and participants were not only from Sweden but also from Norway, Finland, Denmark, the Baltic States and Germany. The winner was Sami Järvelä from Scrap Mc, Rauma in Finland.

One of the young enthusiasts was Björn Henning Larsson is from Oslo. On Friday afternoon at 13 o'clock he put the last screw on his newly built HD chopper. Shortly thereafter he started the journey towards Norrtälje and arrived late at night until Saturday. On Saturday morning with some small adjustments he could enter the exhibition. There was no price this year - we hope he will try again next year.

Café racer is a trend among many builders today and if you like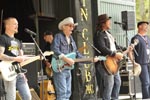 to be really hip you should ride BMW. And, of course, there were many BMW buildings among the about 30's exhibitors in the class. But, in fact, none of them ended up at the podium, won did instead Jakko Mäkelä from Nousiainen, Finland with an NSU, an odd engine today but common about 50 years ago. (NSU ended as a motorcycle brand in 1964) Second and third place went to Sweden through Dan Andersson from Borlänge with a Triton (a cross between Triump and Norton) and Johan Syrén from Sundbyberg with a Triumph Truxton.

One can invent a completely own motorcycle brand and return 100 years back in time, build a motorcycle and win on the Custom Bike Show. That was exactly what Petri Ruusunen from Turku in Finland did, he came on his Velacimoteur (possibly translated as "this is a motorcycle"). What kind of brand the engine really was unknown, but the 1910s antique look was unmistakably stylish. May be, one of the other old school builders thought that it was unfair that a motorcycle that never existed could win, but at the same time it proves that creativity is high!

David Burman from Arjeplog was the one who had most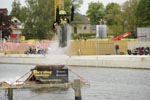 watchers when driving his snowmobiles on the canal that ends in the Norrtälje harbor. Snowmobiles usually run mostly on snow, a more solid form of water, but at this year's Custom Bike Show made David two attempts to repeat his unique world record snowmobile trick. It is up to running at full speed on water, up on a ramp and making a jump with a perfect backflip and then driving on to land. He did not succeed at any of his two attempts which ended under the water surface. The audience liked his daredevil attempt and he received a big audience and a lot of applause.

It went better for the other daredevils who performed.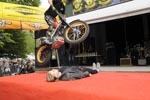 Jimmy Olsson with his trialtrick who ended with a stage show where he jumped with a motorcycle over the band's drummer to the audience's great delight. Johan and Camilla Tildemyr performed an almost 100-year variety trick by driving a 60 year old motorcycle cross and across inside a steel cage from the early 1920s

About 230 exhibitors in 8 different classes. Top weather and 9000 spectators made it a big festival in Norrtälje.

With this, we once again welcome you next year and hope that you although everything had a nice weekend along with us in Twin club MC!

Twin Club MC Norrtelje