Driving a motorcycle to Norrtälje on the first Saturday of June is a long and well established tradition for all motorcycles interested. For many, it is the year's first trip or longer journey. So also this year and in a fantastic weather more than 5500 motorcycles came to Norrtälje. All of these, together with other visitors, became more than 10,000 people who enjoyed the societetspark.

It was motorcyclists from all countries in Europe, the longest trip probably had Giordano Sforazzini who came from Rome to show his building that might not be a motorcycle in the sense of the word but a spectacular vehicle.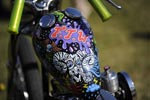 240 motorcycles participated in this year's competition, which included the classes HD-Chopper, Chopper, Custom, Racer, Classic, Modified Standard, Best Paint and Peoples Choice.
Even this year, Custom Bike Show was the Scandinavian qualifying competition for bike building in Cologne this fall. This year as in previous years, there was a jury appointing the participants to the World Cup.
Most competitors was also this year in the HD-Chopper class with just under 70 motorcycles. Here Claes Wärefors from Strängnäs won, a well-known builder who has won prizes at Custom Bike Show previous. Claes also won one of the jury's prizes and received a ticket to the World Cup this fall. Second and third prizes went to Finland through Janne Antttila from Pythänskoski and Rezi from Oulu.
In the Chopper class we welcome more competitors, we have room for more! The number of exhibitors has increased and this year there were more who exhibited than last year. Won did Ismo Keski Corps from Vehria in Finland with a deliciously remodeled Suzuki. Second came Janne Andersson from Åkersberga and third, Lasse Gidbo, member of Twin Club Mc.
The second largest class this year was Custom with over 50 participants, Anders Lundgren & Lasse Sundberg won the now-days well-known Indian Super Scout, a motorcycle that won prizes in most of the exhibitions where it has been, so now the gentlemen can also add a won on the Custom Bike Show on the list. The Indian also became one of the jury favorites and qualified for the World Cup in World cup in Cologne in early October.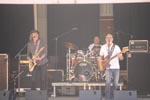 Gerhard Remmert from BikeFarm in Melle, Germany came to Norrtälje with two motorcycles, 2 different Harleys and two different classes, Custom and Racer, with good results, he won third prizes in both classes!

The racing class was won by another well-known builder, Pål Steenersen, from Rulperts Hog in Norway, he has won the Custom Bike Show earlier in 2016, he become second in Modified Harley.
Even in the classics class, it was a celebrity won. Petri Ruusunen. Petri is a well-known Finnish artist and silversmith with several previous high-rise buildings. This year he returned with an updated version of his Velacimoteur (possibly translated as "this is a motorcycle"). What it really was for the engine in the vehicle is unknown, but the 1910s old look mixed with a little steampunk went home with both the audience and the jury. Petri got the jury's first prize and with that the third ticket to the World Cup in Cologne.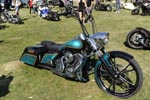 The 2nd prize in classics class took Sture Torngren with his Henderson replica, starting with a 1924 engine and creating the rest on his own along with some marketing findings. Sture is one of those who for many years worked hard for us to build our own vehicles in Sweden, as well as cars and motorcycles. Sture is also the initiator and founder of SFRO.

This year's new class, Modified Standard won Marko Antila from Seinäjoki in Finland with a Harley Davidson Panhead from 1956. Happy number two were Strul MMC from Enköping who came to Norrtälje with his club building, a pleasantly converted Maicomobil from the 50's. Even happier when they received the final prize of the day - The Peoples Choice prize, the perhaps the most prestigious award! The best coat prize went to Ari Koski-Karja with a Panhead-55 with 70's inspired lacquer with lots of flake.

For Giordano Sforazzini from Rome there was no prize, but this year, at the third attempt, he could finish his construction at the Custom Bike Show. The wonderful building, named Biga Valerio, is a motorcycle-engineered version of an antique Roman trolley. Once in place in Societetspark, he became the audience eye catcher!

With this, we once again welcome you back next year and hope that you will enjoy a nice weekend along with us in Twin Club MC!

Twin Club MC Norrtelje